Your eyes need sleep to heal, just like your brain and body. If you don't get enough sleep, it could result in several eye issues, including blurry vision.
Consuming foods high in vitamins, minerals, and nutrients is also important for improved performance of your eyes and brain. The brain and eyes are closely connected, and nutrients play an essential role in maintaining neuro-ocular health, improving the brain's and eyes' performance while preventing age-related cognitive decline and eye diseases.
How Lack of Sleep Affects the Eyes & Vision
Getting enough sleep is important for our overall health, but it also plays a crucial role in maintaining good eye health. A lack of sleep can lead to various eye problems, some of which can become serious over time.
Dry, Itchy, & Bloodshot Eyes
When you don't sleep enough, your eyes may become dry and inflamed. Lack of sleep can also cause blood vessels in the eyes to dilate, resulting in red and bloodshot eyes. It happens because sleep allows your eyes to produce tears that help keep them hydrated and healthy.
Without adequate rest, your eyes might not be able to produce enough tears, which can lead to discomfort and dryness.
Eye Twitches & Spasms
A common symptom of sleep deprivation is eye twitches or spasms. These involuntary movements can be distracting and annoying, making it difficult to focus on tasks. Eye twitches can also be a sign of stress, often resulting from a lack of sleep. They usually resolve independently, but getting enough rest can help relieve them.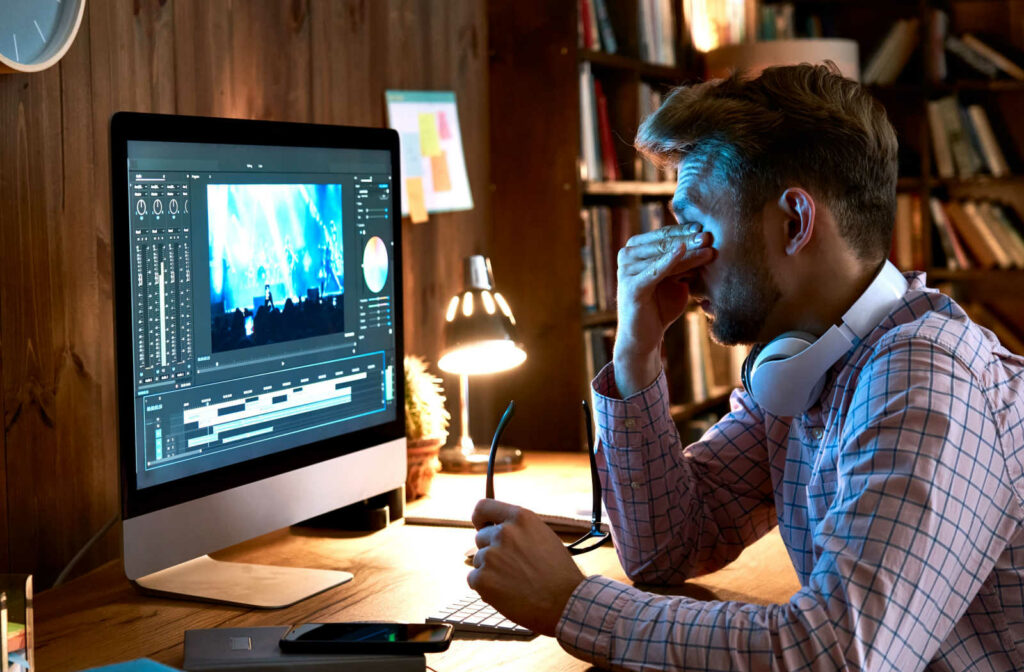 Sensitivity to Light
If you've been up all night, you might have noticed how sensitive your eyes can become to light. This sensitivity occurs because the pupils dilate when you're tired, allowing more light into the eyes. As a result, you may experience discomfort or even pain when exposed to bright lights.
Blurry Vision
When you're sleep-deprived, you may experience blurry vision. It occurs because your eyes can't focus properly due to fatigue. Blurred vision can be a symptom of a serious eye condition such as glaucoma, which can damage your vision permanently. Although blurry vision may get better after a good night's rest, it's always best to consult an optometrist if you experience any vision problems.
Nutrients for Eye & Brain Health
Your brain and eyes share a very close relationship, and the nutrients you take in play a vital role in your neuro-ocular health.
To improve the performance of your eyes and brain's performance, consuming foods rich in vitamins, minerals, and nutrients is important. You can find these nutrients in vegetables, fruits, meats, and nuts, which can also help prevent eye diseases.
For instance, anti-inflammatory properties in omega-3 fatty acids can support your retinal health, while vitamin K and lutein found in leafy greens can slow cognitive decline as you age. Studies delve into both macro and micronutrients to explore their benefits.
Finding the appropriate foods and supplements to keep your eyes and brain healthy is possible regardless of your preferred diet.
Foods & Supplements for Eye Health
To improve and maintain your eye health, consume foods and supplements containing vitamins C, A, and E and fatty acids such as lutein, zinc, and omega-3.
Foods & Supplements for Brain Health
Maintaining good brain and cognitive health can help enhance hand-eye coordination, depth perception, and eye teaming, reduce the risk of Alzheimer's disease, and improve your memory. Foods and supplements high in Vitamin K, lutein, omega-3 fatty acids, folate, and beta-carotene can help achieve this.
Holistic Approaches to Brain & Eye Health at Vision Therapy Institute
At Vision Therapy Institute, we believe that taking a holistic approach to nutrition is key to eye and brain health.
Our experienced team is committed to helping you and your family find the right dietary balance that suits your needs. When you don't get enough sleep, it can cause adverse effects such as blurry vision, so it's important to prioritize getting restful sleep too.
We are dedicated to providing our community with personalized support every step in their journey towards a better vision, better neuroscience practices, and overall better well-being. So if you're looking for advice on the best foods for brain and eye health or practical tips about getting adequate restful sleep, request an appointment today!
We would be thrilled to help you take control of your nutrition and your vision.